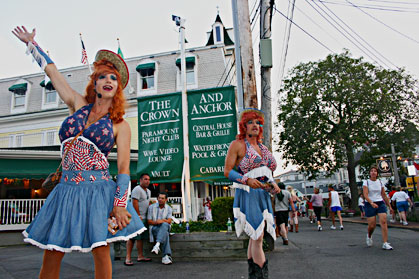 I hated to go indoors on this sunny day, but really wanted to see more films in this 10th anniversary edition of the Provincetown Film Fest. What lured me indoors was
Anita O'Day: Life of a Music Legend,
a riveting documentary on the life of the legendary jazz singer who, while not a household word, is revered among jazz buffs as one of the greats. The movie was a knockout, as was its subject. Don't miss this one.
The next film I caught was
When I Knew
, in which GLBT people are asked to talk about the moment they knew that they were drawn to people of their own gender. It's a touching and funny short film.
On the way back from the fest, I stopped in for a cool drink at The Gifford House, a complex that has a piano bar, a porchside lounge and the Purgatory Dance Club. Not wanting to stay in purgatory too long, I set off for home – which is the Crown & Anchor Inn, and hung out at their piano bar for a while – where guests were in the throes of show-tune heaven…..More from the
Seattle Gay News
(and purgatory and heaven) tomorrow. Please stay tuned….